LEFTY
2006 to December 2009
Lefty
We first noticed Lefty in the spring of 2006 when he and his mate hung out at the railroad track nesting site with our other friends. They didn't nest but spent almost all their days around the other nesting and non-nesting geese. Often, young pairs do that so we assumed that The Lefties were between 3-4 years of age. When nesting was over for the other geese, they left the area to head to their molting location.
Lefty was named for his gimpy left foot. He is able to get about quite well, despite his minor handicap. When we first got to know him in the year 2006, he walked in a sideways fashion with a slight limp. Today, his limp is hardly noticeable. Perhaps his injury was fresh back in 2006 and has improved over the years. Despite his slight handicap, Lefty is a ladies' man. We have seen him with several different mates.
The Lefties were the earliest to begin nesting in the spring of 2007. They chose a nest at the spot where we used to see them hang out, on the edge of the marsh beside the railroad tracks.
When Mrs. Lefty was nesting, Lefty was often seen resting beside her, a very romantic sight, indeed.
The Lefties at their nest, April 2007
When we visited the nest site on Mother's Day (May 13, 2007), The Lefties were no longer there. They showed up at the park pond May 18 with a gang brood of 16 goslings ranging from a couple days old to about a week old. Since their goslings were the first to hatch at the nest site, we assumed the three largest were theirs. The next day, The Lefties were running around with zero goslings, then two days later, with eight. They ended up parenting about 40 goslings with two other couples.
The Lefties' brood, May 18 2007
The Lefties continued being gang brood parents all summer. They were excellent parents, remaining in the confines of the park the whole time, keeping themselves and their young charges safe from harm. Every single gosling had to be fairly proficient fliers before they could take them on a grand tour of the city ponds. They finally departed from the park August 9. The Lefties and their grown goslings returned to the park October 22, after an absence of two-and-a-half months. They showed up once more before migrating south.
Lefty and his new mate at the nesting marsh. Early May, 2008.
2008
Lefty showed up at the nesting marsh with a new mate in mid-April, 2008. Her nest was about 50 yards away from the nest that Lefty's former mate had used. Due to a spring drought, food was scarce at the nest site and we sometimes spotted Lefty feeding at the park field while his mate was nesting. When we visited the nest site on May 10, 2008 they were no longer nesting.
Lefty and his new mate returned to the park in October. They only showed up a few times before migrating south in early November.
2009
We didn`t see Lefty at all this spring and wondered if we would ever see him again. Then one day in September, when we were visiting Mama Goose at Tuxedo Business Complex, two miles from our regular haunt, there he was! We were overjoyed to see him and to know that he was safe and sound. He recognized us and came right up to be fed. He also had a new mate which explains why he is now using this pond instead of the pond where we first met him several years ago. His trademark sideways walk with a slight gimp and the discoloration of his left foot were apparent. It was a very happy reunion, indeed.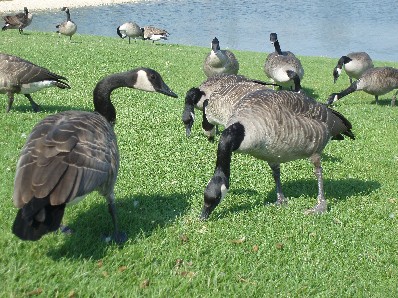 Lefty (right) with his new mate at the same pond that Mama Goose resides.
Lefty and his mate showed up at our pond (our pond is where
Frank
,
Duce
,
BIGG
and our other geese hang out. Lefty used to hang out at our regular haunt) mid-October. We were pleasantly surprised to see him. He is not a regular at our pond but when he's here, he makes his presence felt. He is quite aggressive and is often seen giving other geese a ferocious bite!

We have not seen Lefty since the end of October and we assume he has migrated.